for weekly up to date info scroll down
and sign up for the e-list!
A little birdy told us some people were missing their fix of Starshine Burlesque.
So with that we bring you two rip roaring opportunities to catch us in action as well as a chance to shout from the hilltops "I MISS STARSHINE BURLESQUE LIKE HECK AND I AM NOT GOING TO TAKE IT ANYMORE!"
That's right. we're all choked up, some people felt inclined to nomatate us for
"The Retired Burlesque Revue Missed the Most"
in the Golden Pasties at this year's New York Burlesque Fest.
You can show your love and fustration for our M.I.A. status here:
http://www.thenewyorkburlesquefestival.com/pollphp09/db/goldenPasties.code.php

Fear not! because after voting you CAN see us! in two very limited edition starshine burlesque engagements:

Saturday, September 19th
DANIEL NARDICIO & STARSHINE BURLESQUE PRESENT SUMMER HANGOVER
Huh? Summer over? What happened?
Starshine Burlesque was always the last to leave a party so join us at Daniel Nardicio's Farewell Fire Island Weekend! Saturday Sept 18th– we're still spiking the punch and ripping our clothes off! Starshine is bringing you hysterics and theatrics with out patented blend of boobs and amazement.

Hosted by the adorable and inebriated star of burlesque
Anita Cookie
and featuring a bevy of brilliant burlesque beauties
Little Brooklyn
Creamy Stevens
Clams Casino
Minnie Tonka
and Lamaia

Merman Go-Go action from Noah D'Klein
Pirate Tony will be pillaging and plundering tips
& dj fresh prince of darkness is spinning tunes for your aural delight

10 PM $5 BUCKS
At the Grove Hotel Ice Palace
Cherry Grove Fire Island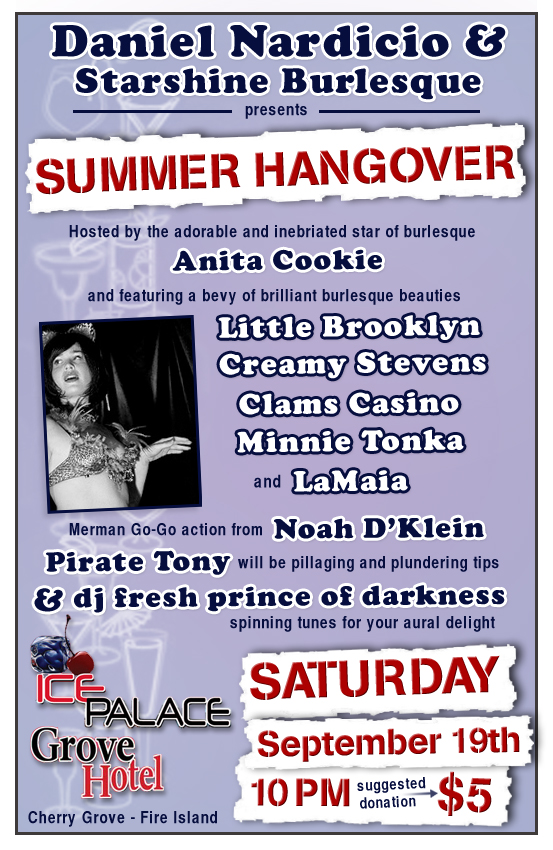 SPECIAL HOTEL RATE INFO BELOW:
Daniel Nardicio's Farewell Fire Island Weekend!
Friday/ Sat Sept 18th and 19th: For the weekend of Sept 18th and 19th, Daniel Nardicio has procured rooms at The Ice Palace for a very low price, and is bringing his favorite performers, DJ's and go go studs for a very special weekend. For the all-inclusive price, you'll get 2 nights at the Ice Palace hotel (2 person occupancy), free entrance to DN's Farewell Underwear Party, a live broadcast of WFAG Radio Sat Afternoon poolside with Bianca Del Rio, Aaron Elvis, Robbyne Kaamil, go go boys and more, plus live shows like Starshine Burlesque, Porsche Live and Robbyne Kaamil: Raw and Real! Plus free underwear for the party by Freshpair.com and a reprisal of his huge hit Boylesque night!
Plus special deals on dinner at Jumpin Jack's Seafood Shack, drink specials and a screening of Nardicio's Great Gay American Roadtrip! Come enjoy the best time of the year on Fire Island- for a no holds barred weekend!
http://www.brownpapertickets.com/event/81661

Saturday, October 3rd
THE 7TH ANNUAL NEW YORK BURLESQUE FESTIVAL
You can catch Little Brooklyn on Friday and Starshine Burlesque on Saturday at the New York Burlesque Festival.
Thursday, Oct. 1: Teaser Party
Public Assembly
70 North 6th Street
Brooklyn, NY

Doors Open At 8pm
www.publicassemblynyc.com
Friday, Oct 2 Premiere Party
The Bell House
Doors Open at 8pm
Show Starts at 9pm
149 7th Street (between 2nd & 3rd), Brooklyn
Saturday, Oct. 3
The Saturday Spectacular
BB Kings
Doors Open at 6:30pm
Show Starts at 7:30pm
237 West 42nd Street, NYC
NYBF Official Festival After Party
11pm-1am
Don't miss the official NYBF Saturday after-party with the amazing international DJ Hitman Hearn (London) plus gorgeous Go-Go Girls & more! Free entry for all NYBF ticket holders and performers!
at Lucille's Bar
Sunday, Oct 4: The Golden Pastie Awards
Le Poisson Rouge
Doors Open at 7pm
Show Starts at 8pm
158 Bleecker, NYC
if you made it this far down, Then you must really love us...
show us that love in the form of an electronic click by voting for us as "The Retired Burlesque Revue Missed the Most" in the Golden Pasties at this year's New York Burlesque Fest:
http://www.thenewyorkburlesquefestival.com/pollphp09/db/goldenPasties.code.php
We love you too!
yours in pasties
Creamy Stevens & Little Brooklyn
Starshine Burlesque
(Gosh, we miss saying that!)


---
** YULE A GO-GO **
EXTRA, EXTRA! an extremely limited number* of the brand-spanking-new,
hot-off-the-press, ready to burn a hole in your DVD payer...
YULE A GO-GO
The Burlesque Yule Log DVD
Beautiful ladies dance to groovy go-go-tastic versions of your favorite holiday tunes in front of the roaring fire.
A holiday party in a box

Featuring:
ANGIE PONTANI * ANITA COOKIE * BUNNY LOVE * CHICAVA HONEYCHILD * CREAMY STEVENS * GAL FRIDAY * HARVEST MOON * JULIE ATLAS MUZ * LITTLE BROOKLYN * THE MAINE ATTRACTION * MSTICKLE * PEEKABOO POINTE * KIT CAT CABRAL * with music by BRIAN "THE FISHERMAN" LEASE

Includes:
-Continuous party loop!
-Fireplace only option (for when the parents swing by)
-Special Effects!
-Behind the Scenes!
-Performer photos & bios
-13 saucy ladies
-12 song cd
-collectors box
-the added bonus of being the coolest kid on the block!

YULE go go crazy for it, guaranteed! For more info:
www.yuleagogo.com/

Sit back, Relax and Enjoy the Show!

yours in pasties
Creamy Stevens & Little Brooklyn

To Receive Weekly Show Information
Subscribe to StarshineBurlesque